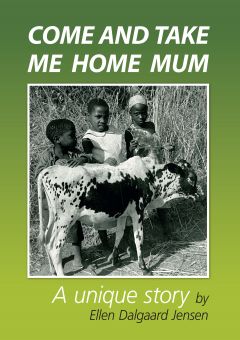 Come and take me home mum
Forfatter: Ellen Dalgaard Jensen
Udgivelsesdato: 10-12-2019
ISBN: 9788771533224
Sideantal: 44
Format: 215x280 mm
Indbinding: Softcover
Pris: 125 kr.
---
Beskrivelse
A unique story. For parents - grand parents and school children 7-15 years
COME AND TAKE ME HOME MUM is a fascinating read. It goes straight to the heart. Are these stories true? Yes they are. Is it true that the poorest and most overlooked children can suddenly blossom into the happiest, healthiest and most talented of children? Can 7-year-old children teach adults how to read and write? Is it true that ants eat hens and young rabbits? It is actually. But remember, we're in Africa, more specifically in Tanzania.
The book is ideal for reading aloud to young children and for children who can read themselves. The content of the book is unique. There is nothing like it elsewhere. All the children in the book, or their parents, suffer from leprosy. Look at the beautiful photos.
They tell their own story. All the photos were taken by the narrator - Auntie E. The book is full of humour and drama.
Former sound technician, webdesigner and consultant at the Danish Broadcasting Corporation
René Eriksen
Note from the translator.
It has been a joy to translate this book. The portrayal of children excluded from society because of leprosy in their family is both moving and inspirational. And that these children go on to become teachers and help in the community is overwhelming.
The book is ideal for reading loud and the many photographs would be a good outset for classroom discussion. It could also be used in teaching English as a second language to non-native speakers of all ages.
Simon Palmer
Ellen Dalgaard Jensen born 1936 in Skjern, Denmark. Chose to live a life among the poor and underprivileged. Her mission in life is to raise awareness about the overlooked and neglected. She is a qualified nurse and midwife, and has attended courses in pastoral care, clinical pastoral training, social psychology and anthropology at Moravian College and at the Moravian Seminary in the US.
---